Discover more from BEYOND BUILDINGS
Welcome to Beyond Buildings - Here we predict what the world will do in a week, a month, a year from now. It's Smart Cities, It's Smart Buildings and most importantly, it's Smart People. Go above and beyond with the Beyond Buildings Blog & Podcast!
✍️#1 - The Weekly Wisdom - Beyond Knowing Nothing
September 7th-September 13th. "Real-time data, Decision-making capabilities, AI-Readiness, Digital Twins, Smart City Strategies, Knowledge transfer platforms and the IMPORTANCE of problem definitions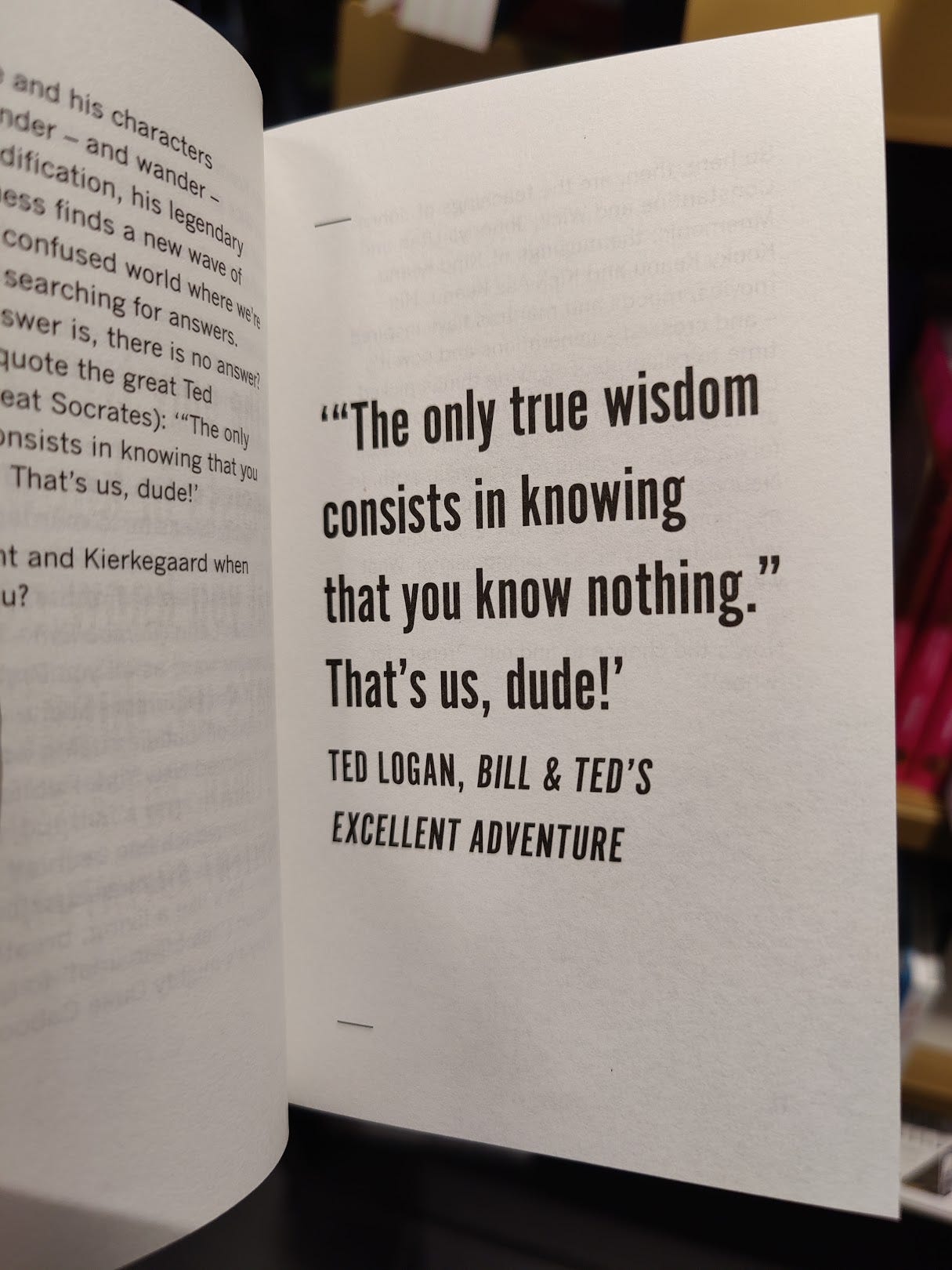 "I saw this at a book store this week. It might be true that the more we know, the more we know that we do not know anything at all. But maybe even truer words of wisdom are that, together we have the ability to know everything?"
---
"You are the weakest link, goodbye"
This week I had the pleasure to be involved in my weekly routine of mentoring startups, engaging in dialogue with decision-makers at large multibillion companies, pitching research projects around digital twins, public tenders for smart city projects, steering committee meeting for an IoT-education, Board member advisory for a Digital Real Estate initiative, CEO advisory, midnight meetings (for me at least) with change-makers in the construction space from 3 continents, and podcast recordings about security aspects when it comes to connected and hopefully Smart Buildings.
And as always it was a lot of focus on how to get started, get going, and succeeding with shared reality decision-making, AI-readiness at scale, and scalable real-time data strategies.
I've been in dialogues on how to build AI factories, digital operating models, and understanding that the weakest links in organizations are the places where they are slow. It might be one, it might be many, it might be all of the below. But if one is slow, then the rest will follow.
Existing systems

People

Processes

Culture

Hierarchies

Supply Chain
Maybe, this is why future mergers & acquisitions make little to no sense when it comes to the organizational value and more and more about network effects and installed bases. Interesting times ahead for sure, and with the meetings that I have, you have a front-seat to where the action will be. I can guarantee it.
"One of the most interesting aspects this week is that of Knowledge Capturing Platforms, targeting the retirees in companies, making their knowledge everything but lost in time."

This is in direct competition with the exponential societal value creation derived from research-based Digital Twins. But that's another story.
Despite some sleep deprivation, I have to say that it has been an amazing week.
Learning from the best and working with the best, there's no greater feeling.
---
If this below (and above) is something you want to know more about or want me to expand in future podcasts/articles or anything else, let me know! And if you haven't done so already, get that subscription going. Demystifying the buzzwords is what I can do, and try to do. So stay tuned!
Summary of the week September 7th-September 13th
Recorded a Podcast session
- Where to start with digitalization for large traditional companies. With the pain points, or pleasure points?

Can existing traditional companies be helped, or is it just momentary positivity before their last breaths?

Mentoring a real estate startup
Building scalable from scratch for startups, new ventures and projects, when to think about AI-readiness?

Board meeting for a Digital Real Estate community
The need for a company mindset when engaging in community driven practices. Always selling something. But the question is what, and for whom?

Utilizing the Business Model Canvas and Value Proposition canvas to discern a go to market strategy for community driven industry organizations.

International meeting, Construction Disruption
Mission, visions in all their glory - What do you want to do, what are you doing today, and do you have the problem defined well enough?

Low-code, no code Data harmonization platform, under the hood show and tell
How to utilize visual Digital Twins for shared reality development, bringing developers and users into the same meetings.
When do companies need to start thinking about vendor lock-in?
Mega grant pitching for Unreal Engine, Mega grants
The potentially exponential societal value creation derived from research-based Digital Twins, cutting down drug development time to market by 50%

Applied research through a shared reality, improving robustness, also achieving 50%+ faster time to value creation - value impact for people.

CEO + Sales Advisory for a Digital Twin scale-up
Utilizing Digital Twins for knowledge capturing, no moments will be lost in time.

The importance of understanding the before situation and the after. And what is required to get there?

Ecosystem strategy meeting with a law firm in the Nordics
How can cities create "better" public tenders and what is required to scale into an unknown future?

How can cities and municipalities be more comfortable in utilizing open data? What are the risks and rewards from a National level?
"In order to think outside the box, we need to define the box"
Smart City Digital Strategist advisory

How can we expect to compete on a global level if there's no open data, no national collaboration, and tenders for public projects are driven by low cost?

Utilizing the global goals and real-time connected Digital Twins for National collaboration/innovation efforts.

Synergy Meeting with a listed Strategy firm in Sweden
Digital Twins - Where to start, where to continue, and how to succeed?

Digital Twins as a tool and means to an end - what to tell the salespeople?
(How do you work with real-time data? How are decisions being made? How far have you come with AI-implementation and what challenges are there?)

Digital Twins for the Automotive industry, how to achieve faster time to market, 50% less lifecycle testing, with an all-encompassing data fabric?

Keynote discussion for an online conference
What's best, keynotes, or interactive workshops?
Two possible ideas for keynotes:
- "Digital Twins as national collaboration and innovation platforms"
- "3D-printed affordable housing, disruptors delight"
- "Re-inventing the real estate industry through AI-factories and Lifecycle Digital Twins"
- What do you want to hear more about? Leave a comment!
It was definitely an amazing week, and the next week will probably be even better. It's true that we know nothing on our own. And it's only through discussions and dialogue that can battle-test our theories and get wiser together!
This week's future podcast will be about Industry 4.0 and it's a great one! And the week will be jampacked with meetings about the same as above, and more.
And if you have any problems, I am sure that we can come up with the solutions together!
Go above and beyond with the Beyond Buildings Newsletter!