Discover more from BEYOND BUILDINGS
Welcome to Beyond Buildings - Here we predict what the world will do in a week, a month, a year from now. It's Smart Cities, It's Smart Buildings and most importantly, it's Smart People. Go above and beyond with the Beyond Buildings Blog & Podcast!
Wärtsilä Call - Optimizing Shipping operations
During one of the calls this week I talked to Wärtsilä Voyage Solutions who are digitizing onboard operations for improved efficiency and compliance.
Getting a call with Wärtsilä
Wärtsilä is a company who is "enabling sustainable societies with smart technology". My connection to them was a classic one in my book. It was during the exact same time I got introduced to IoT and Building Automation when I also met Lauri Kovanen, now Senior Analyst at Wärtsilä Voyage Solutions at the World's largest Entrepreneurship conference, Slush. We kept in touch somehow, and I love these connections because you never know when you can help someone else, or when help is needed.
He's going on parental leave next week but he managed to schedule a quick call with himself and Venla Pouru who was equally impressive. During the call, I got to understand more about their offering, what they are doing today, and what they could, and possibly should be doing for their customers tomorrow.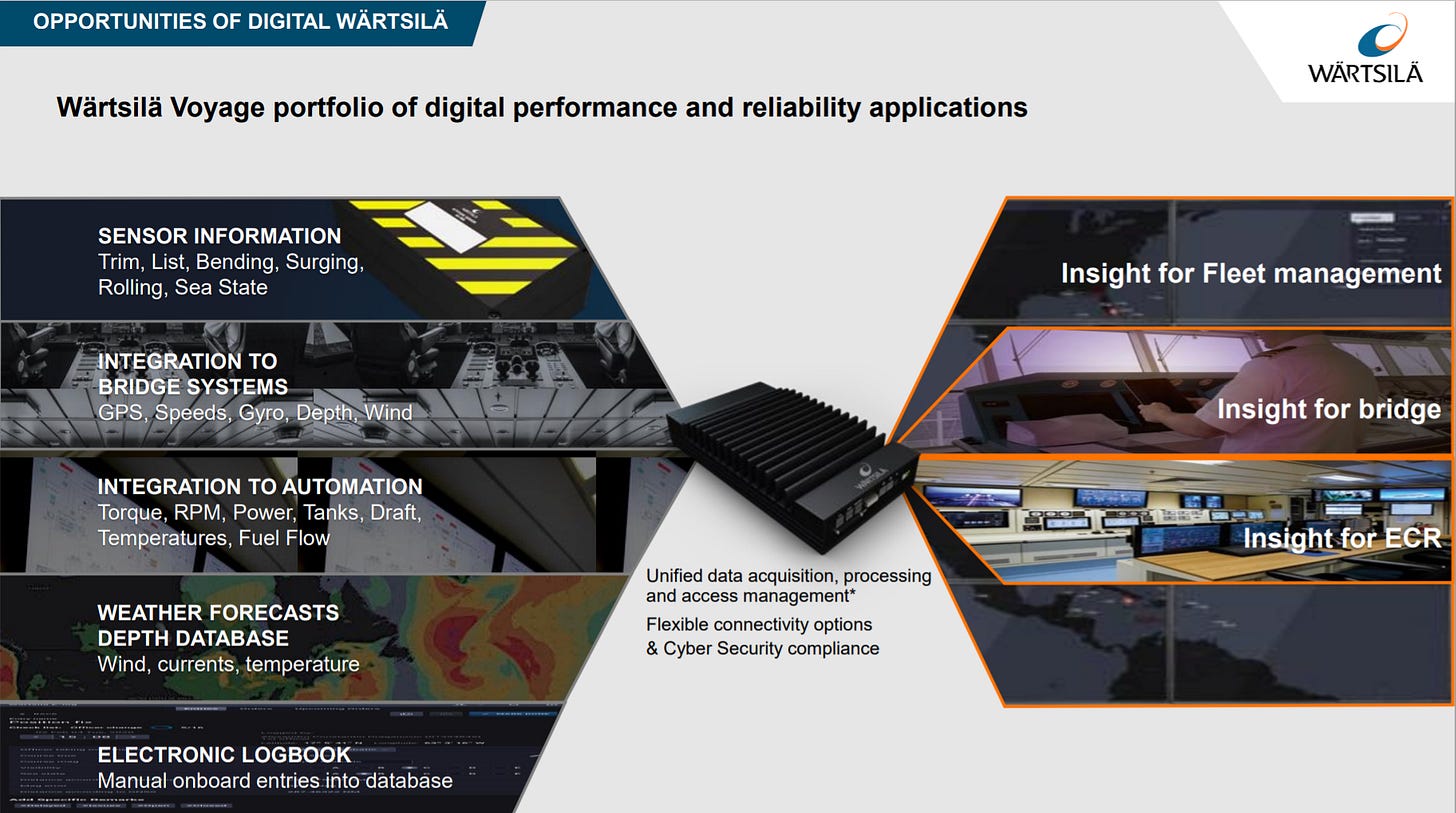 I think this is a great overview in itself. It shows what goes into the gateway and what outputs, and part of what value it means for whom. Very nice. A bit surprising that they did parts of things that were not their core, like the Electronic logbook. Or maybe I was a bit disappointed on behalf of another company that I know, Maranics. I think there are definitive synergies and I think in an ecosystem kind of way. So we'll see if I can make some intros.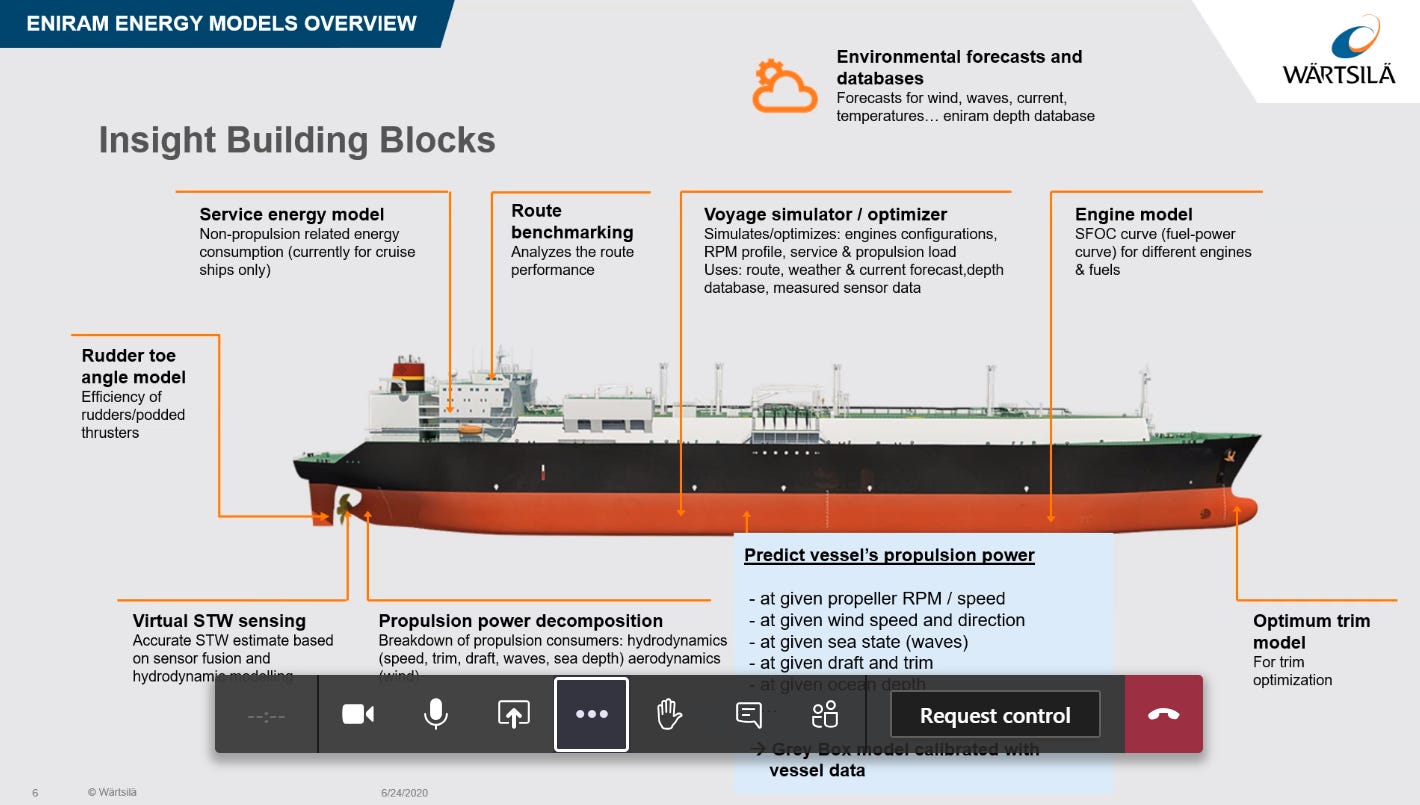 Based on what Lauri said (and what my notes and above image is telling me) is that they are focusing on the energy side of things, and in general these high level topics.
Hydrodynamics

Fuel consumption in the Machine park

Hotel energy consumption. And according to Wärtsilä, they have a power plant onboard which in itself extremely interesting of course for someone who's unfamiliar with how cruise ships are built.
Some Reflections from the call
Super interesting to learn more about another area that are in part, very similar to building automation, smart buildings, and of course they are smart city miniatures. And because they also do analytics I could see a lot of similarities with the knowledge I have in data harmonization tools, AI/Machine learning prerequisites and data strategies, data architecture that involves Edge/Cloud hybrid thinking.
Basically, they have their area of which they call their Digital Twin. It didn't have any visual side to it, and not necessarily a complete mirror image, but it was definitely fit for purpose running their models. They collect data from ship sensors, do some analytics on the edge. But the majority seemed to be to get data out from the ship at 15 minute intervals, send it to "the cloud", where other data sources augment the data, and then send it back to the ship. Cloud data that was augmented could be regional regulations, weather data of course, and any other data that could be relevant for the ship at a specific point in time.
It's similar to what the building automation industry is going through, and perhaps shipping is a bit closer to cutting edge stuff than buildings, but not necessarily so.
Here are a couple of perspectives of what shipping could do in the future:
Re-use and utilize the BIM model as the baseplate to hang up everything that goes on in the ship. Both from a collaborative approach and find new business models that can make money for the owners even during port-time. But mostly to attach any data sources within the ship, and keep adding data sources over time

Edge analytics and more of a distributed intelligence approach

Work with an ecosystem approach and inviting to innovate with things that others are experts in to fully realize the true potential of ships. For themselves as well as owners.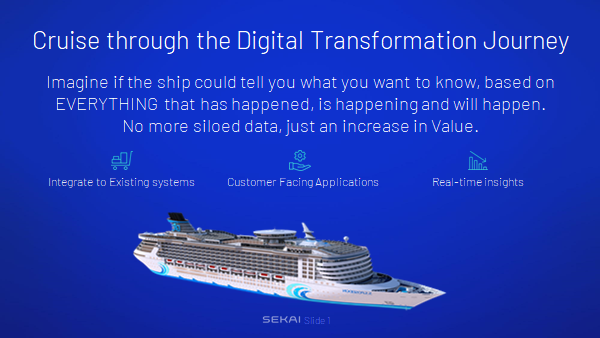 The BIM model and Cad-files that were used don't seem to be used during the operation stage. Similar, if not identical to how buildings are built, in the sense that value gets lost over time. By using the BIM-models as the baseplate for everything that goes on, companies can build true digital twins that scale across silos and realize the full potential of ships and fleet management.

"Go-to-cloud" seems prevalent (thinking that Wärtsilä is leaders in their field) still. They seemed to have a hybrid approach, but I'm wondering how sophisticated it is. Maybe it doesn't have to be that granular tbh, but I also see that it's moving more towards distributed intelligence and edge analytics in other verticals.

The benefit with edge analytics is that the ship continues to be smart even without an internet connection. And when there is a connection and a sophisticated data-strategy, some KPIs can be sent to the cloud and not all of the data. This saves money and communication challenges which is a double win! I got this from a guru at one of the AI/ML companies in my network.

Imagine if all passengers just had a AI/ML stuff built in to their access cards that could detect a swift change in altitude (someone is falling) that would alert necessary systems onboard, automatically throw out some life jackets or whatever, and then also send a signal to the bridge, saving the location, and possibly turn on thermal cameras across the ship that are also connected to the same data fabric. That might be a specific solution that exists, but it would be even better if it was tied to the overall digital twin fabric.

Ideas on how to provide more value for customers but not necessarily an ecosystem strategy, or a way to utilize true Digital Twin technology to absorb data from other sources within their analytics framework. Getting even more granular data from all aspects of the ship would be even better to continue to run the ship in an optimal state in real time, not only every 15 min, or less.

I understand them since historically making sense of data across disciplines has been extremely hard. And this has led to the "Data cleaning"-period being discussed here and here, and of course also a lack of "All the data" which can lead to erroneous assumptions as described here, here and here. But, with the advent of ontology-based digital twins that create a digital twin based on what the real world looks like, this doesn't have to be as complicated. And by utilizing data harmonization platforms like Platform of Trust companies can outsource all of their data harmonization issues to a company that only specializes in that area so companies can just create value from one API instead of ten or twenty.
Summarize
Using proven cutting edge-technology would help Wärtsilä tie into other areas that Wärtsilä aren't experts in. With data harmonization tool and the Digital Twin creation platform they don't have to be worried about making sense of the data, wherever it comes from. It comes with the Digital twin, allowing them to better cater to the needs of their customers, and take a larger piece of the market in getting ALL things connected.
And there's the Post COVID compliance aspects to understand, and to get going with products where there is a huge sense of urgency in this market.
Wärtsilä seem to be an incredible company with stellar offerings. But now when there's pressure in the market from all sides, they too need to step out and go out of their comfort zone. Not only for themselves to stay relevant. But even more so for their customers.